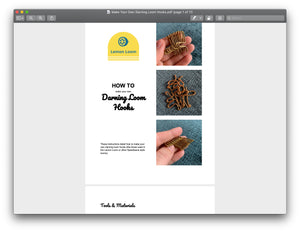 Make Your Own Darning Loom Hooks - PDF Instructions
These pdf instructions describe (in English) how to hand bend a set of brass darning loom hooks. This is the same process we use to make hooks for our Lemon Looms, but requires only hand tools and both tools and materials that are easy to source online or at your local hardware store.  The process of bending hooks is simple but finessed and is described in great detail in these instructions, including building a bending jig.
Use these instructions to make as many hooks as you like!  Experiment with different tools and materials to create the loom of your dreams :P. 
What makes Lemon Loom instructions the perfect gift?!  Gifting instructions enables you to:
Encourage loved ones to be resourceful and mend rather than replace! 
Give without extra packaging/shipping - instructions are delivered digitally so there is no extra packaging or strain on our postal service required
Give a personalised gift - way more unique than an Amazon gift card (though, honestly an amazon gift card would be a perfect compliment to this gift)
Gift without delay - delivery is immediate, we've got you covered, last minute shoppers!
Look super cool - chances are your loved ones have not heard of us; you could be the one to clue them in!
Support a small business!!!
Note:  since these instructions contain numerous full color photos, they are not intended for printing, but rather to be viewed on a device.  Also, not for resale, please :)
---
We Also Recommend
---