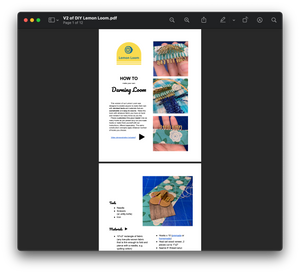 Make Your Own Darning Loom - Printer Friendly PDF Instructions w/ Video
These pdf instructions describe (in English) how to make a simplified Lemon Loom using minimal tools and materials that are sustainable and easy to source.  With these instructions you can make and remake this loom with whatever fabric or thread you have on hand.  
Additionally, you can customise your loom to your needs! Use as many hooks as you please (hooks can be bought pre-made or you can make them yourself with our hook instructions, offered separately). The same construction concepts apply whatever number of hooks you choose to include.  
Instructions include links to video demonstrations of each step and a printer friendly version with QR code linked videos.
What makes darning loom instructions the perfect gift?!  Gifting darning loom instructions enables you to:
Encourage loved ones to mend rather than replace! 
Give without extra packaging/shipping - instructions are delivered digitally so there is no extra packaging or strain on our postal service required
Give a personalised gift - way more unique than an Amazon gift card (though, honestly an amazon gift card would be a perfect compliment to this gift)
Gift without delay - delivery is immediate, we've got you covered, last minute shoppers!
Look super cool - chances are your loved ones have not heard of us; you could be the one to clue them in!
Support a small business!!!
Not for resale or distribution without permission, please :)
---
We Also Recommend
---